Camping
The Alcatraz camping site is open from Friday 13/8 (8h) 'till Monday 16/8 (12h).
Alcatraz Camping
Alcatraz Graveyard
Stay at camping Graveyard for a complete Alcatraz experience! Open from Friday 13/08 (8am), so ideal to build a small party before the festival!
To access the campsite you need to buy a camping ticket (€18 p.p.) in advance on the ticket page. You must bring a print. With the camping ticket you have access to all facilities of the campsite. Check the info page for more camping information.
Camper camping
At the Camper Camping nearby the festival terrain, you get 6m x 7m to park your camper (or caravan with awning). Check camping-info for times of arrival and departure. Cost: €50 per terrain + €18 per person (camping ticket, obligatory for everyone)
Motor camping
You buy a ticket for the Motor Camping which entitles you to place 1 motorbike + 1 small tent at the Camper Camping next to the festival terrain. Cost: €10, only accessible for motorbikers. Note: additionally, every person will have to buy the obligatory camper ticket (€18 pp).
Get your cold beer (only for campers)
Don't fancy lukewarm beer at your tent?
Preorder your beer voucher (€8) and pick up your ice cold Jupiler sixpack (33cl) at the Jupiler booth (Friday, Saturday and Sunday between 9AM and 2PM.
Price: €8

Breakfast package and buffet
Package: Breakfast can be bought at the campsite (Saturday, Sunday and Monday) and includes 2 Danish pastries, 1 yoghurt, 1 piece of fruit, 1 juice or chocolate milk and 2 coffees.
Price: €7,5
---
Buffet: (Saturday, Sunday and Monday) Chocolate pastry, croissant, sandwiches, bread, cheese, ham, butter, yoghurt, fruit salad, fruit juice or chocolate milk, eggs and bacon and 2 coffees.
Price: €12,5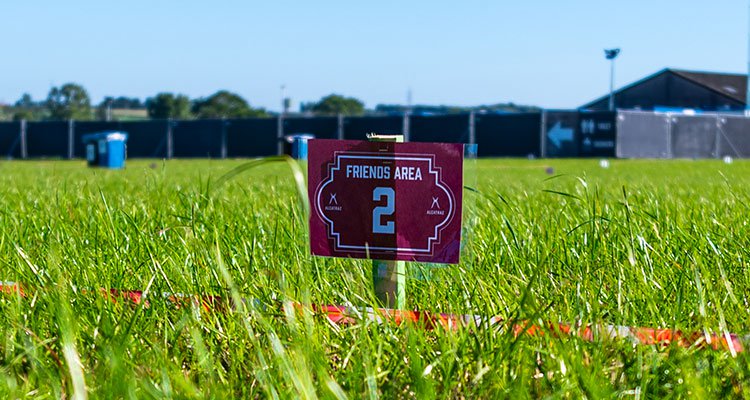 Friends area!
Do you want a guaranteed shared camping space for you and all your friends? Even for the one that shows up too late every time ? Book a friends area! You'll get space close to the festival entrance and camping chill out zone.
The number of square meters has to be decided on rightaway : choose between different sizes.
Friends area
| Size | Price | |
| --- | --- | --- |
| 30m2 | €30 | |
| 60m2 | €60 | |
| 90m2 | €90 | |
| 120m2 | €120 | |
| 150m2 | €150 | |
Excl. camping tickets