Camping
The Alcatraz camping site is open from Thursday 8/8 (16h) 'till Monday 12/8 (12h).
Alcatraz Camping
Alcatraz Graveyard
Stay at camping Graveyard for a complete Alcatraz experience! Open from Thursday 08/08 (4pm), so ideal to build a small party before the festival!
To access the campsite you need to buy a camping ticket (€18 p.p.) in advance on the ticket page. You must bring a print. With the camping ticket you have access to all facilities of the campsite. Check the info page for more camping information.
Alcatraz Eagle's Plaza!
Alcatraz Eagle's Plaza, for somewhat more glamorous campers, is located near the festival grounds and offers the perfect setting for every budget, with basic tents, luxurious Delta tents or even top-of-the bill Lodges with boxspring beds. All accommodations are completely equipped and ready-to-go for a carefree festival! Prices vary between €14 and €56 per person per night. Breakfast can be additionally booked. Who needs a hotel when there is Eagle's Plaza?
Please note: your (obligatory) entrance ticket for the campsite isn't included in Eagle's Plaza's rental prices! Please remember to book additionally (€18 per person).
New at the Alcatraz-campsite: hairstyling!
Have you always dreamt of a purple mohican or do you fancy another heavy-metal hairdo? Place to be on Saturday- and Sundaymorning: our pop-up hairsalon! In cooperation with Rhizo lifestyle school (Kortrijk).
Pre-order campingshop
in cooperation with Mr Campchamp
Your campinggear isn't complete yet or you just don't feel like dragging all that camping stuff to the festival? Via this webshop you can pre-order camping products before coming to Alcatraz. Everything will then be delivered on camping Graveyard. As easy as it gets!
Get your cold beer (only for campers)
Don't fancy lukewarm beer at your tent?
Preorder your beer voucher (€8) and pick up your ice cold Jupiler sixpack (33cl) at the Jupiler booth (on Thursday between 4 and 10PM and on Friday, Saturday and Sunday between 9AM and 2PM.
Price: €8

Breakfast package and buffet
Package: Breakfast can be bought at the campsite and includes 2 Danish pastries, 1 yoghurt, 1 piece of fruit, 1 juice or chocolate milk and 2 coffees.
Price: €7,5
---
Buffet: Chocolate pastry, croissant, sandwiches, bread, cheese, ham, butter, yoghurt, fruit salad, fruit juice or chocolate milk, eggs and bacon and 2 coffees.
Price: €12,5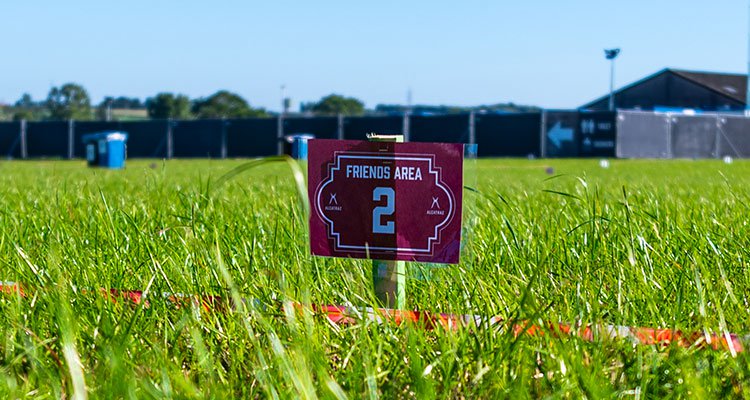 NEW: Friends area!
Do you want a guaranteed shared camping space for you and all your friends? Even for the one that shows up too late every time ? Book a friends area!
The number of square meters has to be decided on rightaway : choose between different sizes. Your zone can be upgraded with benches (about 10 persons) or a partytent.
Friends area
| Size | Price | |
| --- | --- | --- |
| 30m2 | €30 | |
| 60m2 | €60 | |
| 90m2 | €90 | |
| 120m2 | €120 | |
| 150m2 | €150 | |
Excl. camping tickets
---
Friends area
LUXE
Partytent (1 piece) and sitting area (benches and table) included.
| Size | Price | |
| --- | --- | --- |
| 30m2 | €100 | 1 table & 2 benches incl. |
| 60m2 | €130 | 1 table & 2 benches incl. |
| 90m2 | €160 | 1 table & 2 benches incl. |
| 120m2 | €190 | 2 tables & 4 benches incl. |
| 150m2 | €220 | 2 tables & 4 benches incl. |
Caution: €50
Excl. camping tickets